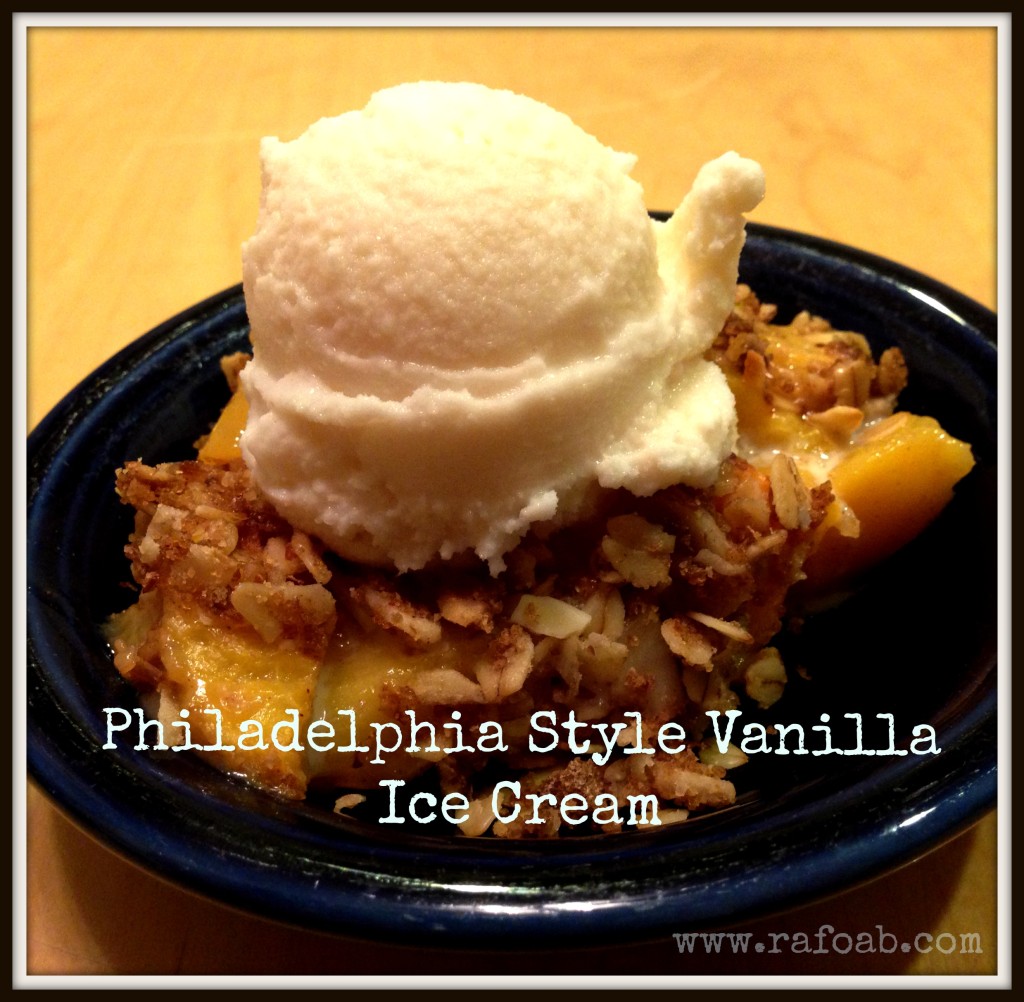 An entire month dedicated to the celebration of ice cream?! Yes please!
July is National Ice Cream Month, and I've partnered with Nielsen-Massey Vanillas to bring you one of my favorite vanilla ice cream recipes.
Nielsen-Massey Vanillas is still a family run business, operated by the 3rd generation of Nielsens. They offer three different types of vanilla: Madagascar Bourbon, Mexican, and Tahitian, and all products are Gluten-Free, Allergen-Free, GMO-Free and Kosher.
Usually, I go for chocolate ice cream, but when it comes to topping a fruity dessert like peach crisp, vanilla ice cream is the only way to go. Its delicious, and pairs beautifully with so many other flavors turning a regular dessert into something extraordinary.
Philadelphia style ice cream is one of the simplest to make and uses just a few basic ingredients – milk/cream, sugar, and flavoring – all things I have on hand in my kitchen. With a few basic ingredients, you can make your own homemade ice cream whenever that sweet tooth gets the better of you, and since it is homemade you control the quality of the ingredients.
For this ice cream, I am using my favorite – Madagascar Bourbon Vanilla. This is my go to vanilla for that classic vanilla flavor – Sweet, creamy and mellow with velvety after-tones.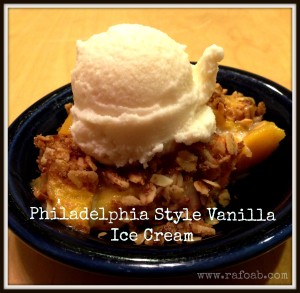 Philadelphia Style Vanilla Ice Cream
2014-07-15 13:05:30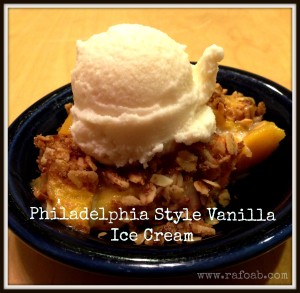 A deliciously creamy vanilla ice cream.
Ingredients
2 cups Half & Half
1 cup of milk
3/4 cup sugar
1 Tbsp Nielsen-Massey Madagascar Bourbon Vanilla
Instructions
Mix the ingredients together in a bowl. Make sure the sugar is fully dissolved so that your ice cream is not gritty. Chill the ice cream base for at least 3 hours.
Prepare your ice cream maker according to the manufacturer's instructions. Add your ice cream base to bowl of your ice cream maker and process until it reaches the desired creaminess.
Serve immediately, or transfer into a container and freeze for 3-4 hours until it firms up.
Notes
Do not use homemade vanilla extracts when making ice cream. The alcohol content of homemade extracts is higher, and will prevent the ice cream from freezing properly.
Raising a Family on a Budget http://www.raisingafamilyonabudget.com/
Enter below for a chance to win a bottle of Nielsen-Massey Madagascar Bourbon Vanilla.