Last year, when I was still pregnant with Tiny, I heard of a 2-day parenting conference that was held in cities all across America. This conference was touted as being in favor of natural parenting and attachment parenting. I didn't even know what attachment parenting was, but there was no way I was taking a 7 week old into Philly on my own last year. I saw photos from several of my friends, and they really seemed to enjoy themselves and learn a lot at MommyCon, so I had to see it for myself.
This past weekend, was MommyCon 2014, and it was back in Philly, as one of several locations around the country. Tiny is now 15 mos old, so he and I went both days.
Saturday was the VIP day. There were about 250 people there, a whole lot for a VIP experience. And while it was noisy (your encouraged to bring your children), and a little disorganized (first year at the convention center and shipments not arriving on time), it was also amazing. There were 3 session on Saturday, all very casual. We heard from The Honest Toddler, The Leaky Boob, and The Baby Guy NYC. And for attending as VIPs, we each received a Beco Soleil Baby Carrier! I'll be honest, the BECO is the reason I chose to go as a VIP instead of just going on Sunday for the general admission day.

I got a chance to talk to some great people, enjoy a day in the city, and learned a little more about baby wearing and what I like in a carrier. The day concluded with a walk to City Hall.
Sunday was a bit different – there were a lot more people, an expo floor with vendors, the Baby Wearing World Record, a variety of sessions, and giveaways galore!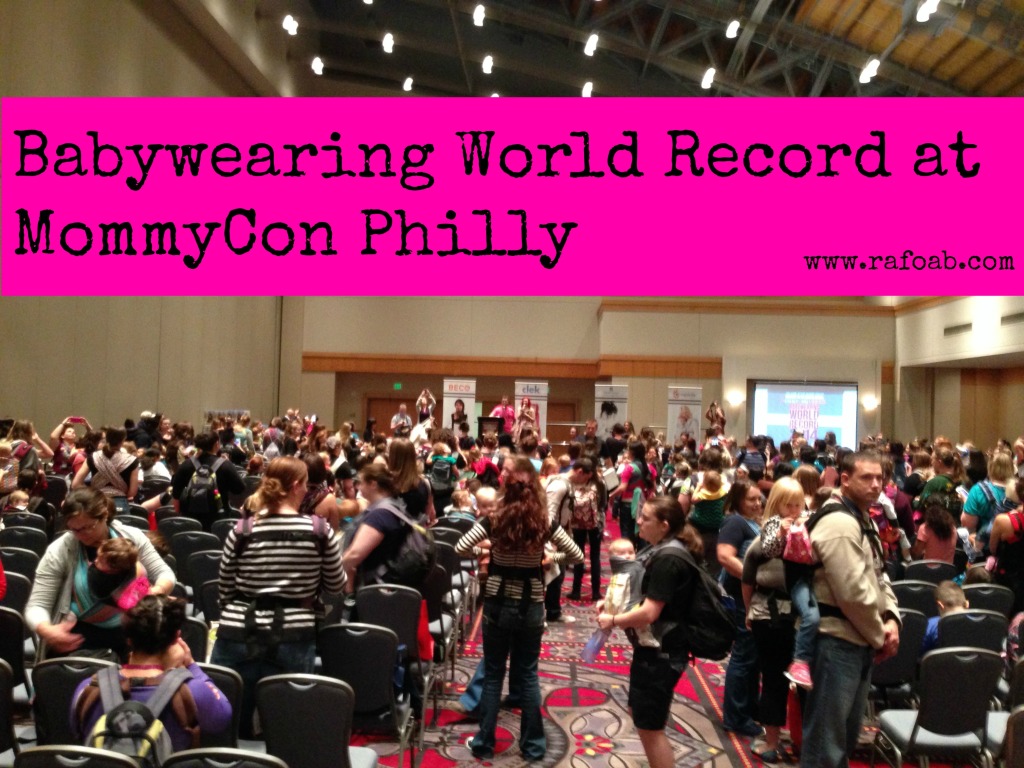 I wanted to know what this whole attachment parenting/natural parenting thing was about. I had visions of hippies with boobs out, wearing multiple children, with patchouli stink dancing in my head the first time I heard that phrase. Nothing could be farther from the truth. Attachment parents and natural parenting are just labels we give ourselves to see what group we fit into. There were moms, and dads, at MommyCon from all walks of life. There were so many different types of parents at this event and we all were able to get along and support one another no matter if we birthed at home or the hospital, naturally or with interventions, breastfeed or formula feed, baby wear or pushed strollers, cloth diapered or use disposables, whether it was our first child or seventh (I didn't meet anyone with more than 7, but it is highly possible) the message was clear – I support you and your parenting choices.
So after two very full days in Philly with my son, I am now home, processing all that I heard. MommyCon was a good experience. I'm glad that I went. I had fun, learned something new, and even made a new business contact or two (which is a bonus). I found out about new products, and really wish some of these things were out when I had my first baby 7 years ago.
I've already been asked by a few friends if I'll go back next year, and to be honest, I won't. From what I saw this year, MommyCon is great for those who are expecting or have children under 2, however I didn't see much that addressed parenting the preschooler or even school aged child, and that is the season our family is moving into. If the seminar offerings change to include preschoolers and school aged children, maybe I would reconsider, but I don't think MommyCon should change to include that dynamic. They have captured lightning in a bottle with MommyCon and their niche and how they address it is amazing.
For more information on MommyCon, check out their website.