This week's frugal efforts were primarily found in the garden, setting us up for a successful growing season, but as always, I'm trying to find other ways to save or stretch our money.
Planted more vegetables in the garden
Purchased a Moonglow pear tree from Gasper Home & Garden Showplace. This is the pollinator to the Bartlett pear tree that we already have, and with pears often costing more than $2/lb, this will save us a small fortune over the next few years.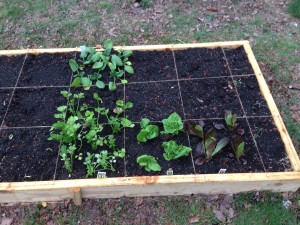 Purchased some seedlings from a local nursery. These are farther along than the seedlings that I started, so we will have homegrown produce sooner, and won't have to purchase at the grocery stores.
Planted seedlings that I had started. Since I wanted to make sure we had enough seeds germinate and survive the transplant, I started about 3x's as many seeds as I would actually use. I am now selling my extra seedlings to friends and people in the Greater Philadelphia Gardening & Homesteading group instead of throwing them into the compost pile.
Earned 243 Swagbucks last week
Cashed in my Swagbucks to get an Amazon gift card
Gathered extra newspaper coupon inserts from neighbors, clipped what I needed, and then passed them on
Received my sales check from consigning with Just Between Friends – Lower Bucks
Entered in my Pampers Rewards points from the baby wipes
Submitted a Checkout51 offer from buying fresh produce
Took a day trip to Howell Living History Farm in Lambertville, NJ to have a picnic and see the animals. Howell Farm has free admission and is open to the public Monday-Saturday, so it was perfect for us.
Had leftovers for lunches
Bought day old bread to make French toast instead of fresh bread – saved $3!
Put more items aside for the community yardsale on 5/2
Made homemade donuts instead of going to the bakery
Washed laundry in cool water