I harvested zucchini, yellow squash, eggplant, string beans, wax beans, green onions, carrots, cucumbers and cherry tomatoes from the garden.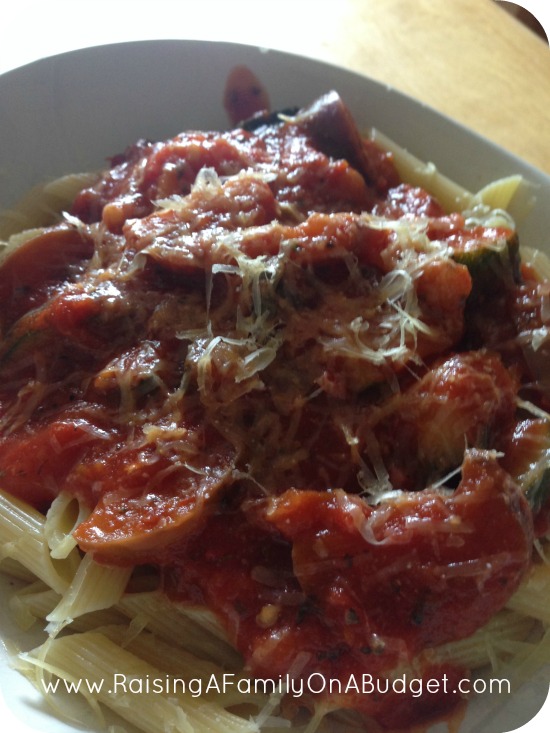 I made a chunky vegetable & tomato sauce to serve over pasta using the various garden veggies and it was delicious. Much to my delight, even the children liked it and they don't usually eat eggplant.
Blueberries are now in season, and its the first year on my bushes so I've been looking for a good price to buy them in bulk. All of the PYO places are about $2/lb which is more than I want to spend. Garden Farm Market in Morrisville, is our local produce market. Yesterday, they had blueberries on sale 2 pints for $3, which would make a case $18. I was so excited, but when I got to the register, they offered a case discount! Only $15 for the case of 12 pints. I decided to grab 2 cases, and will be doing some jam making this week and prepping the others for the freezer.
I bought a 40lb case of boneless skinless chicken breast for $1.44/lb at Restaurant Depot, and split it with my mom (10lbs for her, and 30lbs for us). It took some work to break down the chicken into portions for our family, but I did a big batch grilling session yesterday, plus I have enough in the freezer for 11 meals.
A neighbor gifted us a huge pile of mulch since they had more than what was needed delivered. Other friends gave us their cardboard and newspapers to use as a weed barrier. I have gone through most of the mulch pile, and mulched the hosta along my fence and the back corner of my yard where there were a lot of weeds.
What did you do to save money last week?