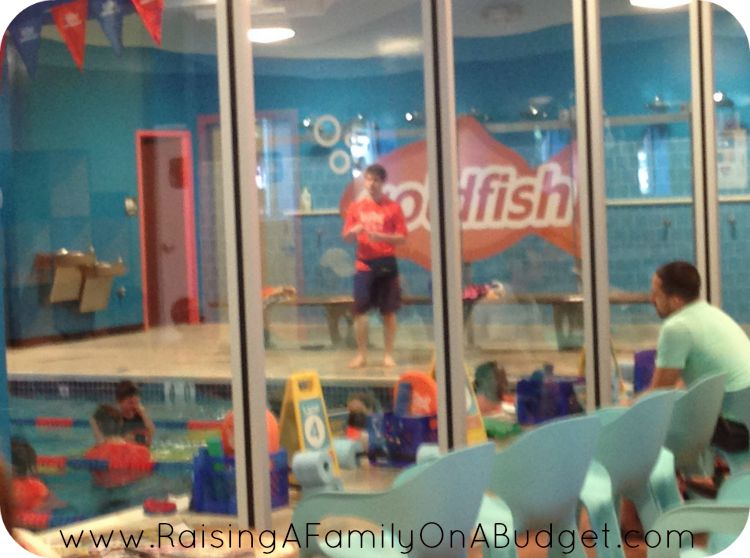 When I was approached about partnering with Goldfish Swim School in Fort Washington, I was initially skeptical because of my past experiences. Would they be able to accommodate all three children without having me come out for 3 different lesson times? Could the lesson times be flexible around homeschooling lessons and Tiny's nap time? Would the swim instructors be caring and compassionate enough with my son who is afraid of the water, and still make him feel like a success?
The answer to each and every concern was a resounding yes!
All three children had lessons at the exact same time. David & Emily were in the BEGINNER class at one end of the pool, while Tiny & I were in the MINI 2 class at the opposite end of the pool. This was the first major sigh of relief. We only had to attend 1 lesson time slot per week to get everyone into their lessons! Goldfish Swim School has many well qualified instructors, so it is possible to offer classes at various levels all at the same time.
They were flexible too! We had our choice of day and time. Classes are offered Monday to Sunday, with classes as early as 9am or as late as 7:30pm. Lessons run every half hour through out the day, and with multiple levels being taught at each time slot, there is a lesson time that could work for every family.
As for the compassionate instructors … they were phenomenal! My children got so comfortable with their instructors over the 6 weeks, and the level of trust and respect that they had blew my mind. My son, who was petrified of the water, was putting his head under in only 5 weeks time! My daughter who had no fear, but couldn't swim, was swimming unassisted in 6 weeks (yes it was awkward, and yes it was only short distances, but she was swimming). Then there was Tiny, during our first class he held on to me for dear life, but by week 6 he was jumping into the pool, doing the crab walk holding the side and climbing out with minimal assistance, and he was putting his face in the water. I don't think this would have happened so quickly with other swim lessons.
We are taking the fall off from swimming to get used to homeschooling and scouts again, but we plan on enrolling in Goldfish Swim School again after Christmas.
But you don't have to wait – Goldfish Swim School in Fort Washington has openings now! Whether your child has ZERO experience in the water, or you are looking for 1 on 1 lessons to strengthen your child's skills for the swim team, you really need to check out Goldfish Swim School!
Goldfish Swim School – Fort Washington
185 Commerce Drive
Fort Washington, PA 19034
(215) 220-3828